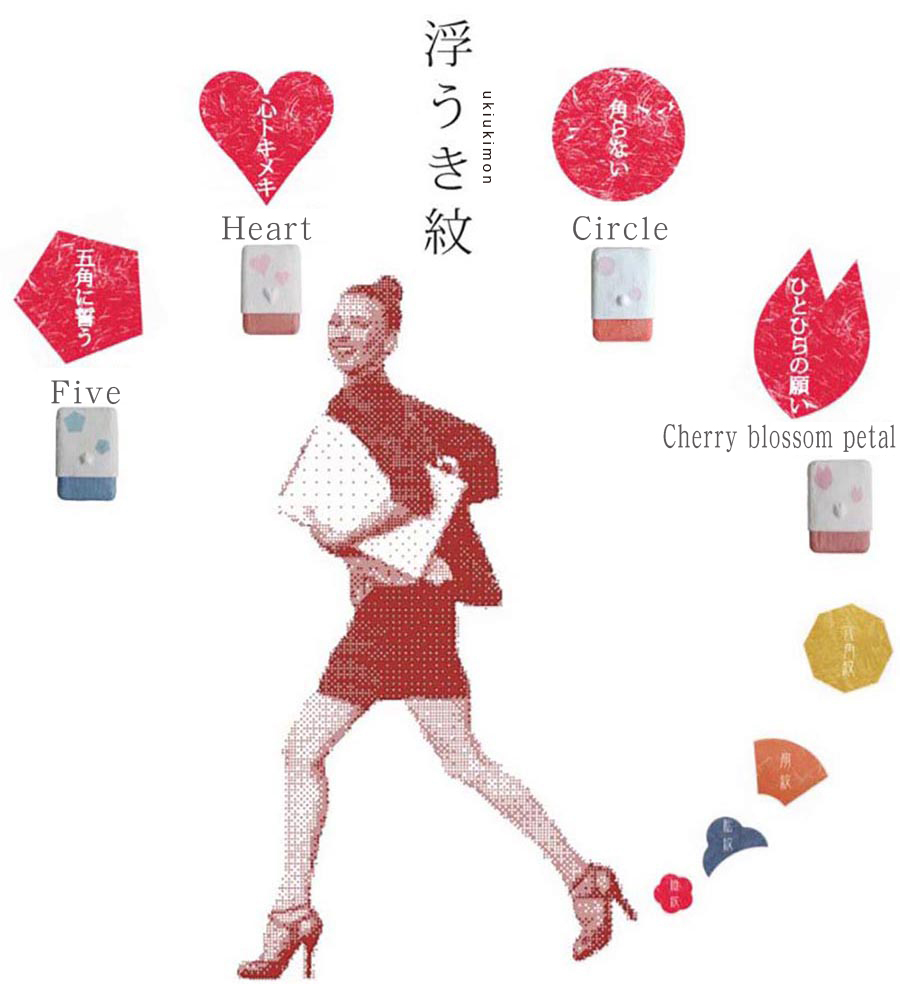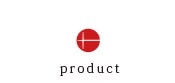 Embossed Patterns Concept
Japan has so often been afflicted by natural disasters that people have worshiped tangible or intangible things as good luck charms ever since ancient times. Embossed patterns on the Japanese paper boxes represent not only standard good luck charms but also popular forms.
Embossed patterns in the middle of the top cover and the bottom lock the box.
Minimal design of structure with embossed patterns as a lock.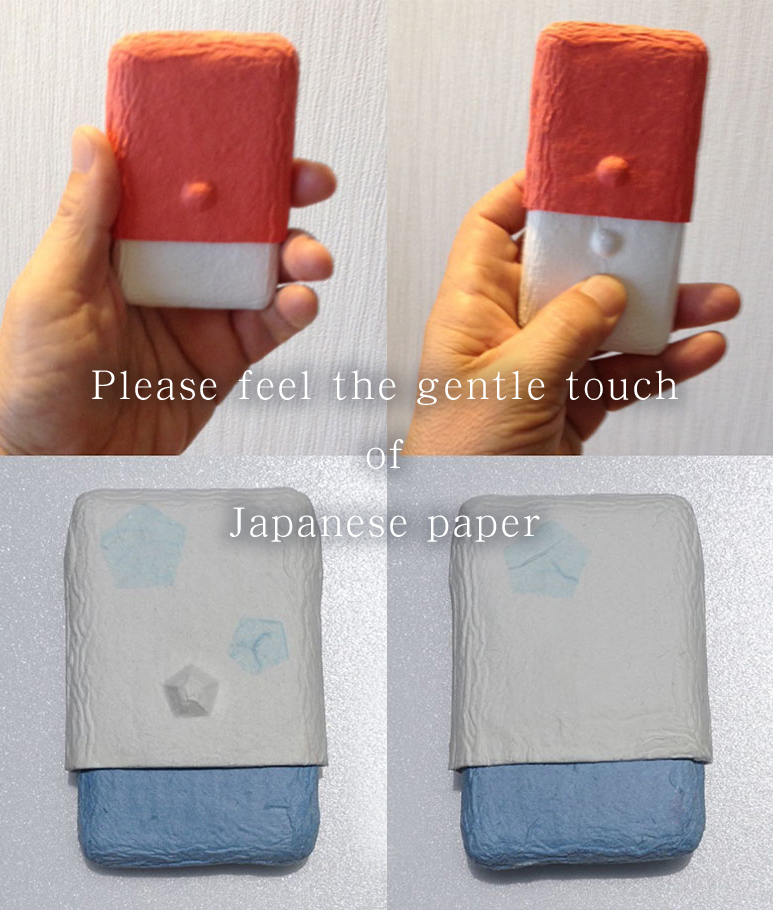 ukiukimon
As our concept is to introduce five traditional crafts of the Tan'nan Region of Fukui Prefecture to today, CLASIMONs has a role in promoting the region and plans to develop and sell original products.
First, in collaboration with Echizen cutlery and a chiffon cake craftsman, we commercialized Chiffon21, a specialized knife for chiffon cake.
Next, we commercialized the Japanese handmade paper box, using the single-piece forming technique of Echizen Japanese paper.
Distinguishing Features of Ukiukimon
・New type of business card holder made of Japanese handmade paper
*business cards holder with a top cover
・Your preffered combination of the top cover and bottom is available.
・There are ten kinds of embossed pattern to choose from.
*Four kinds of patterns, circle, pentagon, heart and cherry blossom petal are available at present. A lineup of ten kinds of embossed patterns is to be on sale soon.
・A message having to do with each embossed pattern is printed on the package.
*For instance, "Take a vow to succeed." for the pentagon pattern, and "Unbounded circle." for the circle pattern.
・Made of a single piece of handmade paper, it is light (approx. 8 grams) and compact.
*Can hold from twenty to twenty-five business cards.
・Minimal design of structure with embossed patterns as a lock.
*Embossed patterns in the middle of the top cover and the bottom lock the box.
・Eco- friendly product without any adhesive agent and lining.
*Since the box is made of a single piece of paper without any adhesive agent and lining, it is not only compact and light but alto an eco-friendly forming technology.
・Multipurpose uses
*As an envelope for gift money for someone special
・Feel something special with ukiukimon
*Ukiukimon, a thin and deep handmade paper case previously considered difficult to make has been successfully produced with state-of-the art technology and traditional crafts technology.
*We produced and commercialized ukiukimon, a business card holder, hoping that ukiukimon will help soften business situations.
ukiukimon Special edition (Pattern using Japanese paper technique)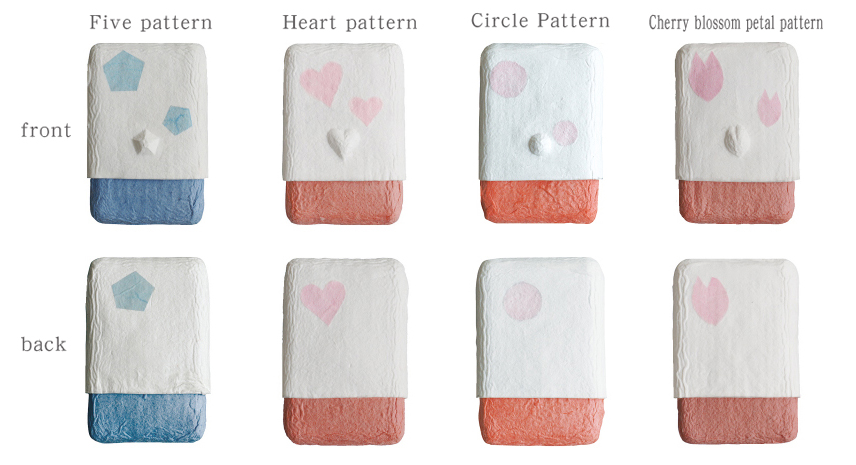 ukiukimon Special edition :¥2,999 円(Tax not included)
*It does not correspond to the combination.

Solid color
Combination of top and bottom
Circle Pattern:25 patterns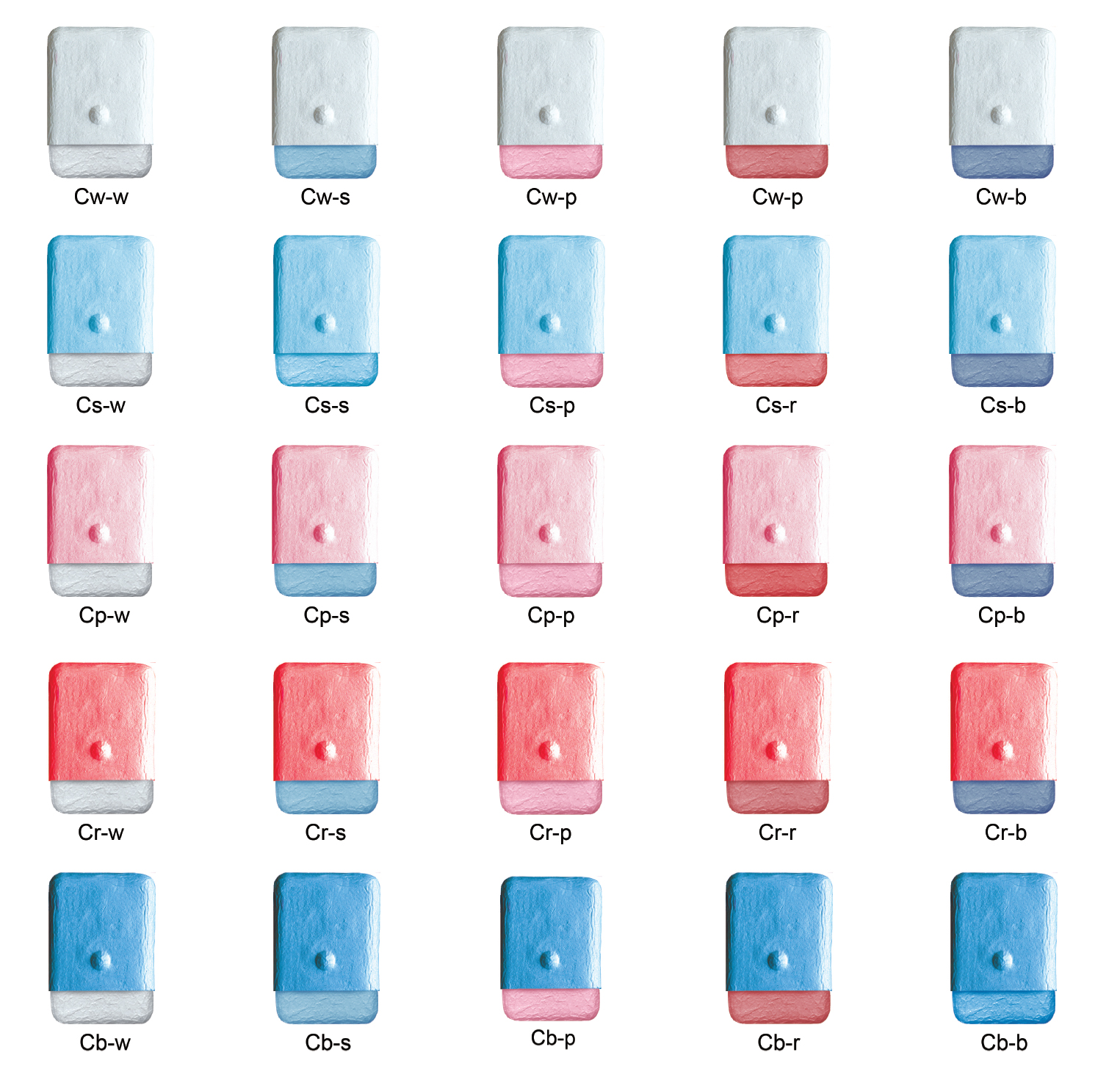 Circle Pattern
Circles, or "en" in Japanese, are used as a good omen at celebrations and also
refers to Japanese currency, perfection, unity, infinite expansion, and many other
mysterious meanings. Ukiukimon describes a circle which has no edges as
"unbounded circle", punning "without decoration", "without airs", "without
straining" and "without endurance". Wouldn't you like to live a well-rounded life?
"En" also means a relationship in Japanese, so the circle pattern is an
indispensable one for business scenes.
Five pattern:25 patterns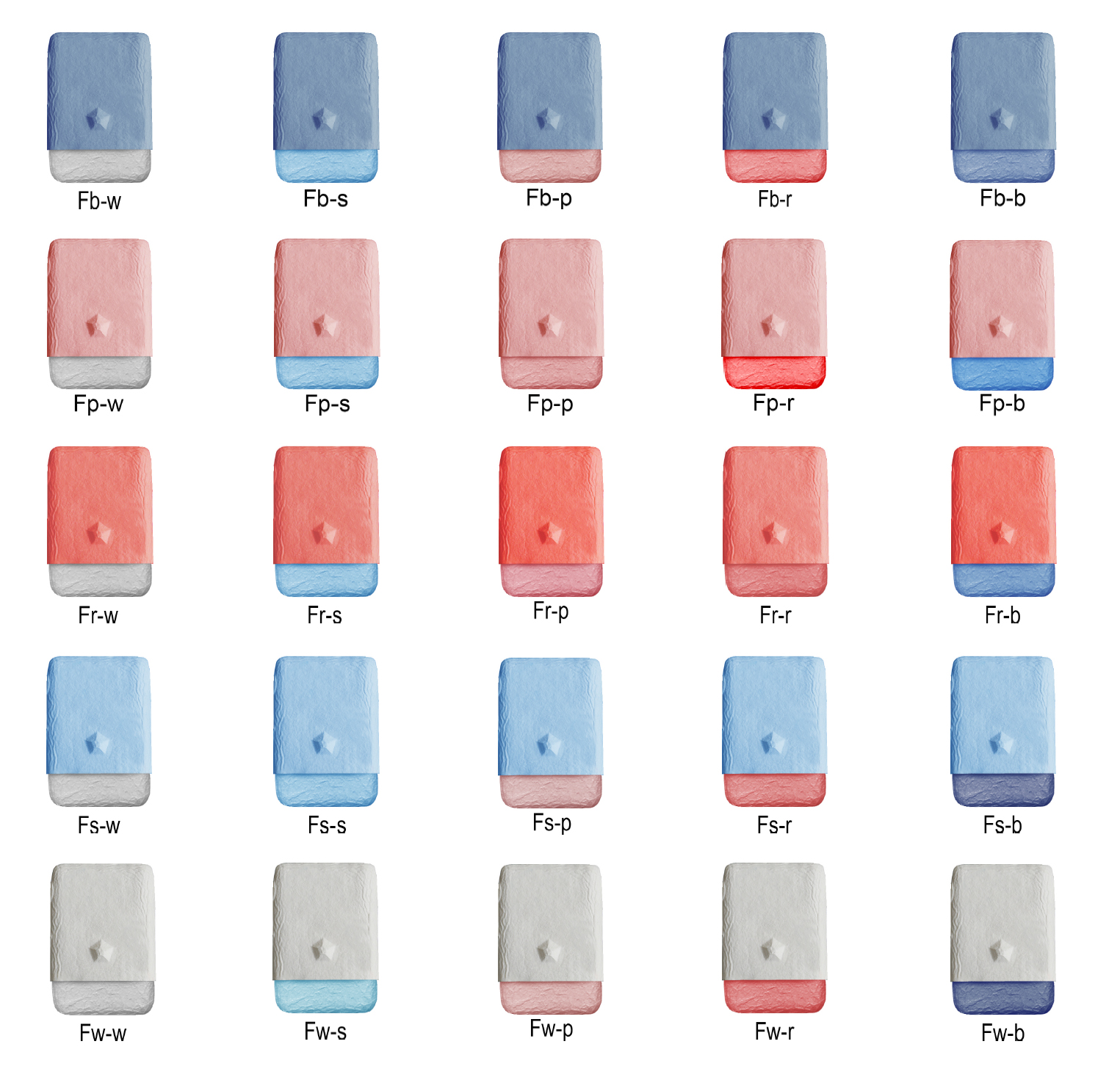 Five pattern
A pentagon is considered to be a perfect shape where the five elements of all
things, fire, water, metal, earth and wood create various phenomena by relating
to each other. Since no malice can break into a pentagon, it is a pattern of the
realization of your dearest wish. "Gokaku", pentagon in Japanese, is a symbol of
exam-sitting students' desire for success in passing their tests, also "gokaku" in
Japanese. The pentagon pattern card sends a strong message: "Take a vow to
succeed."
Heart pattern:5 patterns



Heart pattern
Heart is by far the most popular shape in the world. It is an iconic visual design,
widely used in sweets and fashion items. Its symmetric shape resembling a hug
may leave your heart fluttering.
Cherry blossom petal pattern:5 patterns

●Photo↑NOW PRINTING
Cherry blossom petal pattern
Japan is very well-known for its icons Mt. Fuji and cherry blossoms in that order.
Regardless of which one is first or second, pale pink cherry blossoms are
suitable patterns for the occasion of setting out on a new beginning, such as
graduation, entering school or joining a company. The embossed pattern
represents a wish upon a lovely cherry petal fluttering in the wind
円=CIRCLE 五角=FIVE  はーと=HEART
CI=CIRCLE F=FIVE H=HEART
赤=red ピンク=pink 青=blue 空色=sky blue 白=white
r=red p=pink b=blue s=sky blue w=white
ukiukimon :¥2,900(Tax not included)
*Your preffered combination of the top cover and bottom is available.
Other usage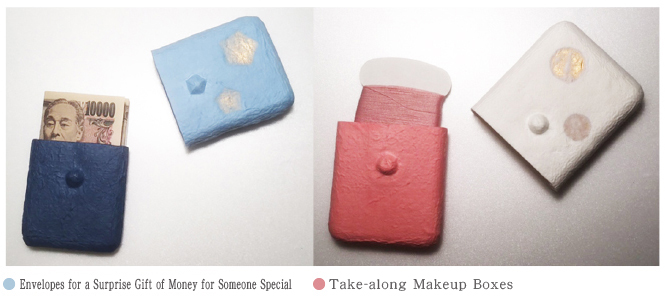 ● Envelopes for a Surprise Gift of Money for Someone Special
 Envelopes for a gift of money have always been popular products at a reasonable price.
 The Ukiukimon paper box, which can be used as a business card holder, costs a little more than usual envelopes for gift money. However, they would be the best envelope to present gift money to your niece or nephew when they start to work as a member of society.
 Paper bills can be placed inside with an included message card in the box, so that the face of a notable person appears when the box is opened.
 The pictured model has a pentagon pattern, which has a card with a lucky message "Pentagon pattern to vow to succeed."
* The Ukiukimon paper boxes are not sold at shops but only on the Ukiukimon sales page by placing orders in advance.
 Patterned "floating cloud" paper: 3002 yen (tax included)
 Plain paper: 2,900 yen (tax included)
 This item includes a message card to set paper money in.
● Take-along Makeup Boxes
 : this item is now being planned.
* *The example in the photo: the patterned "gold leaf floating cloud" paper box is not yet included in Ukiukimon lineup due to the unstable availability of the material paper at present. It is, however, to be included in the near future.
Distinguishing Features
 Made of a single piece of handmade paper with no lining, it is light (approx. 8 grams) and compact. It weighs about 28 grams with about 20 business cards are inside. Made by the free-form method of making Japanese paper, a patent pending technology.
Lineup
Traditional good luck charms such as "suehiro", or "increasingly successful" and other popular designs are planned to be embossed patterns.
Combinations
 Combinations of the top covers and the bottoms can be selected at the CLASSIMONs website: www.clasimons/ukiukimon
How to Use
 Business card-sized Japanese handmade paper boxes are for multiple purposes such as gift money envelopes and business cards boxes. The embossed parts in the middle lock the top cover and the bottom. To remove the top cover, lightly lift up the top holding its sides. The pink card inside prevents the top cover from sliding down too far.
Precautions for Use
 ・ Water-repellent finishing: The paper is water-repellent, leaving the texture of handmade Japanese paper. Please avoid getting it wet in places like the kitchen and in the rain or handling with perspiring hands.
 ・Change over the years: Japanese handmade paper items gradually form fluff, fade or lose their colors. Also, the items are not identical, showing different characteristics, which is considered typical of handmade paper.
 ・Storage: Since the item is a box made of a single piece of paper, please avoid storing under heavy items, in your hip pocket and so on.
 ・Miscellaneous: The edges of the top cover and the bottom are lightly surface-treated. They can, however, become fragile after rubbing against each other many times, so please handle with care to open and close them. When you first start using the item, you may feel roughness, opening and closing it. As you use it, it will open and close smoothly.
* Japanese handmade paper, made of the entangled fibers of Kozo, a fibrous tree, has a lot of spaces among the fibers, through which the paper takes in and releases moisture. Therefore, how it opens and closes depends on the weather.
Specifications of Business Card-sized Japanese Handmade Paper Packages
 Materials of Japanese handmade paper: Kozo, pulp and linen (the compositions of the top cover and the bottom are different). Creases, patterns and colors differ from item to item due to being handmade.
 Dimensions for reference: 97mm by 62mm and 17mm thick. The width and thickness refer to those of the top cover.
 Capacity: From 20 to 25 depending on the thickness of the cards.
 Please confirm at the time of delivery that it is the item you ordered.
 We cannot accept any exchanges or returns because of the customers' personal
preferences. In some cases, however, we may be able to accept the customers'
consultation.
Echizen handmade paper, a 1,500 year-old tradition, has provided a variety of products from daily commodities to paper for woodblock prints by Rembrandt van Rijn or paper custom-made for famous artists such as Taiken Yokoyama. Not only has it preserved its tradition with exquisite craftsmanship, it has also continued to provide products to meet the needs of the times, which has supported the 1,500 year-old Japanese paper production. Igarashi Papermaking has had great achievements in making lighting apparatus by the method of three-dimensional papermaking as well as large-size paper for woodblock prints. From their three-dimensional papermaking method, they have developed an original method, the FreedomWashiProduct, a free-form method of Japanese papermaking, by which they produced and commercialized Ukiukimon as their first production of its kind.